Bertye Lou Wood
"I'm going to dance, dance, dance 'til I can't dance no more, and I'm going to live, live, live 'til I die!"
The wry and irrepressible Bertye Lou Wood is the Silver Belles' sage and mentor. Bertye Lou was the dance captain at the Apollo Theater in the 1930's, where the ladies first met, and in 1985 she gathered the women together to form the Silver Belles. She is the one they continue to look up to. "She taught me how to dance, everything I know I owe to Bertye," says Marion Coles. "You feel like laughing when you're with Bertye, she's more fun than anyone I know," adds Cleo Hayes. Bertye Lou is still a party girl, and the type to tease a rise out of anyone, just to get the action going.
Bertye Lou started dancing in New York in the late 1920's while raising three sons. She danced without stop for the next twenty years, "I wasn't afraid of nothing, teach me that!" She danced on Broadway with Bill (Bojangles) Robinson, and at such venues as the Lafayette Theatre, Connie's Inn and Small's Paradise in Harlem's famed theatrical district. Bertye also led the Apollo Theater chorus line in a strike for higher salaries and a week's vacation. It was the first strike for black performers, and the first for the fledgling American Guild of Variety Artists. The strike successfully established that union for black and white performers nationwide. These days, there seems to be no one, band leader nor dancer, that Bertye hasn't worked with, and when she walks down the streets of her Harlem neighborhood, it seems everyone calls out her name.
April 28, 1905 - March 7, 2002
Read David Hinckley's tribute to Bertye in The Daily News.
Cleo Hayes
Cleo Hayes is a stunning woman (89 when the film was shot) . When you pass her, wearing her blue jeans, shades and a Yankees cap, you'd never suspect her age. This great-grandmother continues to work as a bartender (she prefers "mixologist") at the Flash Inn in Harlem since 1956, discussing current events and politics as she serves her regulars.
Born on the Delta in Greenville, Mississippi, Cleo escaped to Chicago and got her first job dancing at the Grand Terrace with Earl Hines. After a stint performing at the World's Fair, she took a bus to New York and started at the newly opened Apollo Theater, as one of the Apollo "Rockettes." When the Cotton Club moved to its elegant new home downtown in Times Square, Cleo joined that company. She then traveled with Bertye Lou dancing throughout South America, and later with the first black USO unit during WWII. Cleo recounts that USO tour: how they had to receive their meals out the back doors of the mess halls in the south, and her own personal insurrection: taking "For Colored Only" signs off the trains they rode. After the war, with theaters wanting to cut expenses and chorus line work drying up, Cleo danced while the work lasted — at Broadway's Café Zanzibar, the 845 Club, on tour with Cab Calloway, and in the film "Stormy Weather."
Cleo admits to having been a "lazy" chorus dancer, yet we observe, that after this great grandmother takes a tumble down a flight of subway stairs and breaks her arm and knee, she perseveres through months of rehab til she rejoins the Silver Belles troupe and continues her dancing career.
August 18, 1914 - May 23, 2012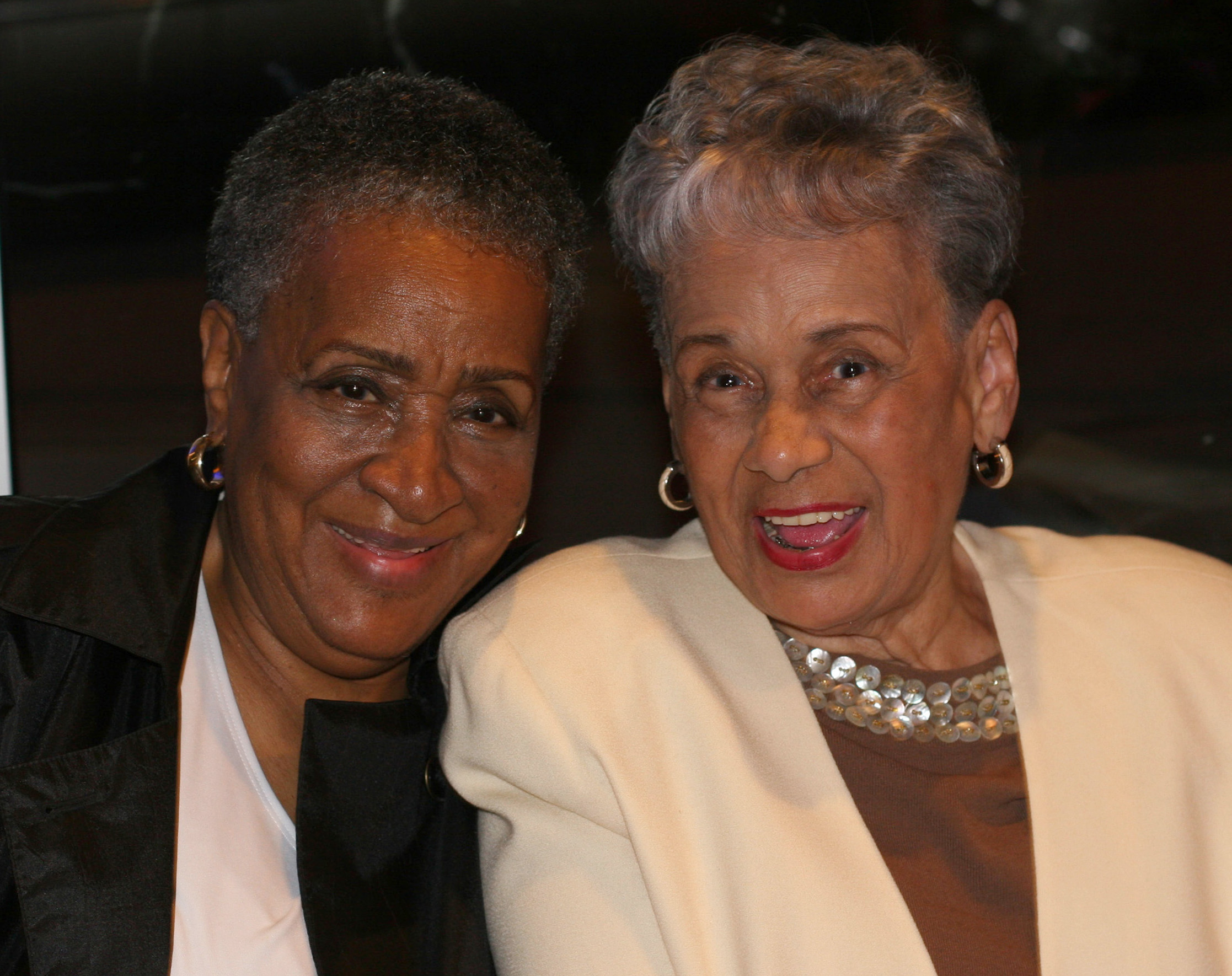 Elaine Ellis
They lovingly call Elaine "Calamity Jane" -- if a train stalls, she'll be on it. At 86, with buoyant good cheer, she spreads her love, and anything else she has to give. (She's the kind of woman for whom bus drivers, unbidden, will go off-route to drop at the very doorstep.) Elaine dances with a smooth grace, despite an almost debilitating asthma, high blood pressure, and some small strokes. When she suffered a bout with cancer (one of two), she continued to take the bus (transferring twice) to get to the Silver Belles' rehearsals after her radiation treatments.
Elaine started her dancing career at the downtown Cotton Club in New York, after responding to an ad for Spanish girls ("I knew I could catch on, and I spoke a little Spanish"). When the Cotton Club closed, she moved on to Café Zanzibar, Club Mimo, the Lenox Lounge and the Apollo Theater. Elaine also performed in Atlantic City at the Paradise Club and Club Harlem, and in Chicago at the Rhum Boogie. After giving up dancing, Elaine raised her two children by bartending and then managing bars for nearly 25 years.
Nov. 30, 1917 - Dec. 21, 2013.
Fay Ray
When Fay was 12 years old, she hopped a freight train and left her home and a hard life in Louisiana. She joined a show on the vaudeville circuit and never looked back. There she learned how to tap dance with some of the best dancers of the day (including her mentor Carnell Lyons of the Three Businessmen of Rythmn, a lifetime friend). When she was 16, she set out on her own, performing as a solo act at theaters throughout the country. In the 1940's, she made her way to New York and joined the chorus lines, where she found steady work at such venues as the Café Zanzibar, Club Ebony and the 845.
During WWII she detoured briefly to become a certified welder, building ships for the Navy. When the chorus dancing work finally slowed in the 1950's, Fay went abroad to dance in Europe, Asia and the Far East. She traveled with USO tours through the 1960's, singing, tap dancing and telling jokes, "wherever we had troops, I was there, Beirut, Japan, Viet Nam, you name it." Not until she was 50 did she stop. She then earned her living driving a taxi in New York City, and working on the pipeline in Alaska.
These days, at 85, Fay considers herself lucky to have at last found "true love" with an older man (in his 90s). She is thinking about putting together another act, doing some stand-up comedy, and a bit of tap dancing.
Read the New Jersey Star-Ledger feature about Fay.
September 11, 1919 - September 14, 2013
Marion Coles
Marion Coles is the dance director of the Silver Belles, and has seemingly boundless energy. During the filming, Marion had to get a pacemaker, and the first question she asked her doctor was, "When can I dance again?" She hardly skipped a week before she was back on the floor. "I don't like to sit around." "She always used to hang out with guys between shows, eating up any tap moves they could teach her. "Dance, dance, dance, she'd dance all day if she could," say the ladies of Marion. She is the widow of the legendary hoofer Honi Coles, and continues to teach tap to passon traditional steps that would otherwise be lost to anew generation.
Marion grew up in the Harlem's theatrical district, and as a teen starting lindy hopping at the Savoy and the Renaissance Ballroom in the early 1930s. She and her partner, with other uptown swing dancers, started taking lindy demonstrations and swing competitions downtown to the hotels and ballrooms, where it spread like wildfire into the larger community. She toured as lindy hop dancer, and then in 1936 joined the Apollo's Number One Chorus Line. She was a leader in the successful Apollo chorus dancer's strike that shut down the theatre on a Saturday night in February 1940, and established the American Guild of Variety Artists. She danced with "Round the World" tours (Baltimore, DC, Philadelphia, and back to New York), toured with Leonard Reed, and danced at the 845 until the late 1940s.
After 24 years working in sales, Marion put her tap shoes on again and joined Jane Goldberg's Changing Times Tap Company. In 2002 Marion was awarded an honorary doctorate from Queens College for her dedication to her craft and her students. Devoted and indefatigable, she has continued to teach tap seminars around the country.
March 15, 1915 - Nov. 6, 2009
Click to read how these women led the strike at the Apollo Theater (establishing the American Guild of Variety Artists).